Définitions :

SLR : Single Lens Reflex (by oppostion to TLR bodies standing for Twin Lens Reflex such as RolleiFlex and Semflex).

TTL : Through The Lens measurement.

SC : Spectra Coating.

SSC : Super Spectra Coating.

EOS : Electro-Optical System.

Canon Date Codes (courtesy of Bob Atkins).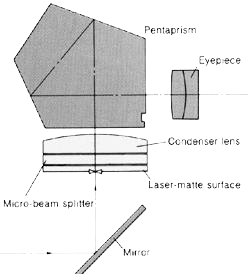 Principle of the Single Lens Reflex.
Copyright © 1999. leofoo® MIR Web Development Team.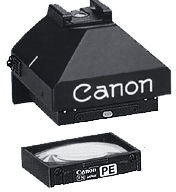 Eye Level Finder FN and PE focusing screen
(for New F-1) .

My collection : I've 82 camera bodies at the moment. 62 are Canon cameras and 20 are not.
: the ones, I have (I've mentioned the serial number),
: the ones, I am waiting for,
: the ones, I dream to have.
Before the R ~ FL ~ FD mounts
Fixed lens, or threaded or bayonet mount
None SLR
1959 - 1963 bodies
The R mount
1964 - 1969 bodies
The FL mount succeed the R mount.
1970 - 1975 bodies
The FD mount and the great F-1.
1976 - 1984 bodies
Autoexposure and the reigns of the AE-1 & A-1 series.
1984 - 1990 bodies
The "T" serie
Autofocus, EF mounts and digital cameras
Specific bodies and limited editions
Nikon
Nikon F (#6826815)
Nikkormat FT-N (#3571844)
Nikon F2 (#7528733)
Nikon FG (#8358091)
Nikon EM (#6285048)
Nikon F401s (#2811962)
Exacta
Zenith
Semflex
Type 24 (#347956)
Type 3 (#377594)
Kodak
Brownie (None)
Kawk-Eye Model B (None)
Agfa
Isola I (None)
Synchro Box (None)
Foca
PF2B Modèle 4 (#308091)
Foca Sport II (#55.705 G)
Leica
Leica III Model A (#110593)
Pentax
Voigtlander
Vito B (None)
Vito C (None)
Minox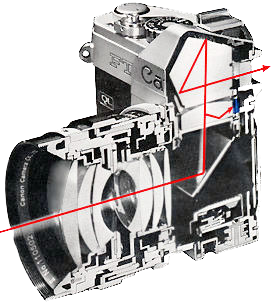 Principle of Through The Lens measurement.
Copyright © 1999. leofoo® MIR Web Development Team.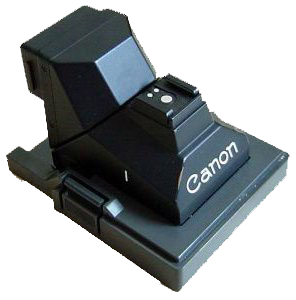 Speed Finder FN (for New F-1)
encased in it's packing support.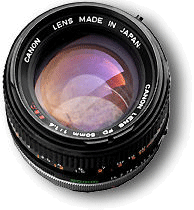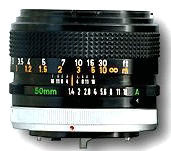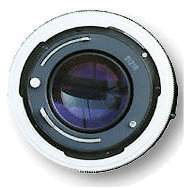 FD Mount old style
From 1970 up to 1981 (?)
Copyright © 1999. leofoo® MIR Web Development Team.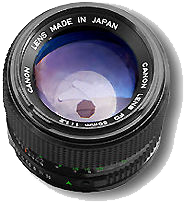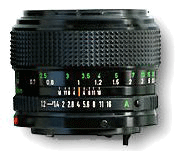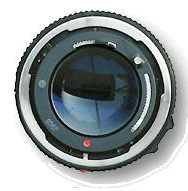 FD Mount new style : FD(n)
From 1982 up to 1990 (?)
Copyright © 1999. leofoo® MIR Web Development Team.
Canon Camera Museum : The official site of Canon Camera Museum from where I got 99 % of the material I've put on this site. Note that I've been unable to find any address on this site where to ask for a copyright agreement.
Photography in Malaysia : initially dédicated to the 'A' et 'T' series, had included a complete add-on about the three F-1 (F-1 old; F-1(n) and F-1 new) later. If you don't find what you need on this site, you will not find it elsewhere.
On the same site, you will find documentation about the EOS series.
A site to download instructions manuals in PDF format.
Camera Page : Canon FD Feature Overview
Pacific Rim Camera : A reseller page with many pieces of information.
Stephen Gandy's CameraQuest : A site for cameras collectors.
Glossary of terms : The great site of Pacific Rim Cameras.
Clic-Clac : The great French site of Jacques Charrat, Cameras Collector.
The Canon US Navy Site : dedicated to the F-1 N for the US Navy.
The Canon FD fan club :
A must have visit : The McKeown's web site. The site price guide to antique & classic cameras (over 25,000 cameras referenced).
The website Canon-Photo : a non official French web site dedicated to the Canon Cameras.
Ollinger's Camera Collection